---
Duke Autographed Cards
by David Graybeal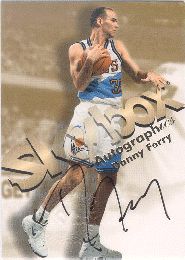 98-99 Autographics
Danny Ferry
The quantity of sports card brands have grown dramatically over the last decade causing many collector's to change the way in which they collect cards. In the 1980's it was relatively affordable to collect all brands of all sports. That is now impossible. Personally, I collect a little of every sport, but I can no longer afford to collect everything like I did as a teenager in the 80's. I have focused my collecting on my favorite team, the Duke Blue Devils. This too is beginning to be impossible with players such as Grant Hill, but at least it helps keep collecting fun.
One area that I find exciting is collecting the autographed cards. The draft pick sets in the early 90's started the trend of inserting limited edition autographed cards in their packs. It's interesting how the draft pick companies seem to come and go, but the autographs remain and are becoming even more popular.


---
Star Pics
In 1990 Star Pics became the first company to produce draft pick cards and also started the trend of inserting autographed cards. The auto cards are the same as the regular series cards except they are autographed on the back and have a certified signature sticker from Star Pics. The 1990 Star Pics set contains three Duke players - Alaa Abdelnaby, Danny Ferry and Phil Henderson. I am not sure how scarce these cards are, but find them pretty difficult to locate. They are each valued at about $15.00. The 1992 Star Pics set also contained autographed cards of Brian Davis, Mike Krzyzewski and Christian Laettner.




90 Star Pics #6
90 Star Pics #18
92 Star Pics #15
Alaa Abdelnaby
Phil Henderson
Mike Krzyzewski
---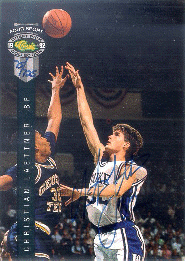 92-93 Classic Four Sport
Auto Christian Laettner
Classic/Scoreboard
Classic became the standard for draft pick sets in the early 90's. They had a basketball set as well as a Four-Sport (or Five-Sport) set which contained basketball, football, baseball and hockey draft picks. Christian Laettner appeared in the 1992 basketball and four-sport set. The Four-Sport card is valued at $40.00 while the Classic Draft Pick auto is not catalogued. Others to appear in Classic sets are Antonio Lang in 1994's four-sport, Erik Meek in 1995's basketball, and Cherokee Parks in 1995's basketball and five-sport. Signature Rookies also produced a number of draft picks sets which contained Cherokee Parks autographs in 1995.




92-93 Draft Pick
94-95 Four Sport
95-96 Auto Edition
Christian Laettner
Antonio Lang
Eric Meek
95-96 Classic Auto Edition
95-96 Classic 5-Sport Auto
95-96 SR Tetrad #13
Cherokee Parks
Cherokee Parks
Cherokee Parks
95-96 SR Signature Prime #28
95-96 SR Tetrad Autobilia #8
95-96 SR Autobilia #12
Cherokee Parks
Cherokee Parks
Cherokee Parks
---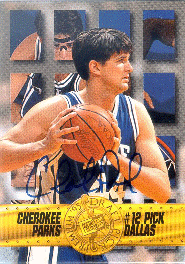 95-96 Press Pass Auto
#12 Cherokee Parks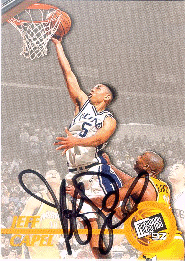 97-98 Press Pass
Jeff Capel
Press Pass
While Classic was the standard for the early 90's, Press Pass has become the standard for the late 90's. Players to be included in Press Pass sets include Cherokee Parks in 1995, Jeff Capel in 1997, and Roshown McLeod in 1998. All of these are shown below. Press Pass has signed Elton Brand for exclusive rights to his photo and autograph in any Draft Pick sets. William Avery and Trajan Langdon also appear in this year's Press Pass issue.


98-99 Press Pass
98-99 Double Threat Rookie
98-99 Authentics Sterling
Roshown McLeod
Scripts Roshown McLeod
Roshown McLeod
99-00 Standout Signature #11
99-00 Press Pass #1
99-00 Press Pass #10
William Avery
Elton Brand
Trajan Langdon
---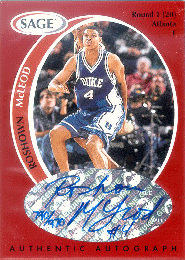 98-99 SAGE Red #A31
Roshown McLeod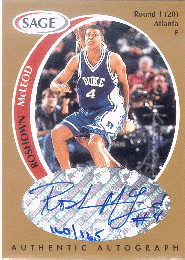 98-99 SAGE Gold #A31
Roshown McLeod
SA-GE
SA-GE began issuing draft pick sets in 1998. Their primary purpose is to distribute autograph cards by containing one in every pack. SA-GE stands for Sequentially #'d Autographed Guaranteed Every pack. Many levels with different quantities are produced. These include Red (£ 999), Bronze (£ 650), Silver (£ 400), Gold (£ 200), Platinum (£ 50) and Master Edition (1). The 1998 set included Roshown McLeod. The Red and Gold versions are shown here. The 1999 set will include William Avery, Trajan Langdon and Corey Maggette.



---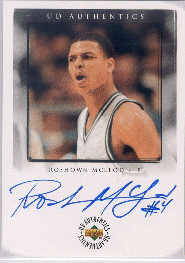 On to page 2 of The Card Gallery
for more autographed cards...